Push Up Rack Board Trainer (A Home Workout Essential!)
Regular price $69.99 Sale price $129.99
The Push Up Rack Board Trainer will strengthen and shape your entire upper body (chest, shoulders, back, and arms), while engaging your core at the same time! This 9 in 1 exercise item combines push ups with intense calorie-burning cardio, plyometrics, and core exercises for a total body workout. You will develop muscles, build upper and lower body strength, burn calories, and achieve your body goal!
Features:
-  Different color targets specifics muscles (Blue for chest,  Red for shoulders,  Yellow for back,  and Green for triceps). 
- The two handles can be switched to multiple positions and angles that sculpt and maximize upper body muscles.
- Foldable and portable: The Board consists of two parts, when stored it takes up minimal space and it is convenient to carry.
- Perfect for beginners who have not developed the necessary technique for performing exercises. 
- Burn calories and build strength with this product, guiding you through a total-body strength and conditioning workout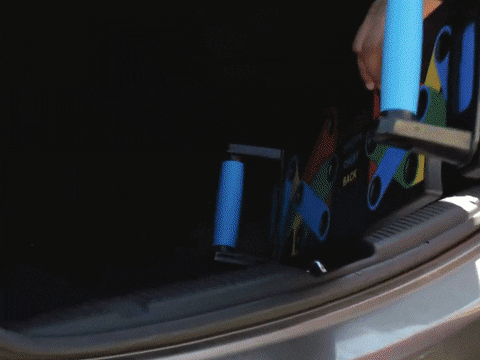 Specifications:
Material: ABS Plastic
Item size: 595 * 183 * 20mm / 23.43 * 7.20 * 0.79in
Item weight: 1.1kg / 2.43lb
Package Includes:
1x Push Up Rack Board Trainer