Selfie Led Ring Light with Cell Phone Holder
Regular price $34.90 $0.00
Capture the best selfies anywhere anytime with this stylish and functional ring light that will bring out the beauty in you!

Do you love to take selfies but can't get the perfect picture because of low light conditions? We have the right device for you! Capture beautiful pictures with great illumination every time with our Professional Selfie Ring Light with Cellphone Holder. With its USB power cord, it allows you to shoot for hours without the need for a battery.
Taking photos is a sure way of preserving that certain moment you felt a distinct emotion with the people you love, but having a dark and underexposed photo will entirely ruin the vibe. With Professional Selfie Ring Light with Cellphone Holder, you won't have to worry whether your photo is dark, you won't have to bring those bulky and heavy cameras and camera gears to your travels, or any occasion you're going to. Just your phone and this handy device are enough to capture every moment with your loved ones.
FEATURE(S):
VARIOUS BRIGHTNESS MODES: It is designed with 3 light modes: white, mixed and warm light to help you get the right mood for your videos, live broadcasts or still shots. It takes away all the unflattering shadows and brings more details to your subject.
WIDELY COMPATIBLE: It is compatible with almost all smartphones with or without a case, like iPhone XS / XS Max / XR / X / 8 / 7 plus / 6, Samsung S8 / Note8, etc. Just the perfect extra light for makeup, selfie, video call, and live stream on any social media websites.
ROTATABLE HOLDER: This device has a 360° rotatable gooseneck for a landscape or portrait or other orientation you need, it gives you the perfect placement locations you need for selfies, video chat, live streaming, product display, online teaching, live beauty videos, and many more.
FLEXIBLE & CONVENIENT: With its 32.5inch long arms for the cellphone holder and 55inch long arms for the light, it can easily be bent and maneuvered yet strong enough to situate in different positions. Not only can you twist them around any direction to get the perfect angle, but you can also bend them for travel use.
RUBBER BLANKET: Create a hands-free content without worrying about your phone getting scratched because this cellphone holder comes with an extra rubber blanket to protect your phone from any damage.
STURDY CLAMP: It is compatible with most tables and desks or any stuff with a plate such as bookcases or chairs. Super convenient for you to create your videos or take high-quality pictures anywhere.
PORTABLE DESIGN: This holder is powered by a USB cord that can be plugged into a computer, wall charger, or any portable charger. With a portable power supply like a power bank, you can use the ring light anywhere anytime.
SPECIFICATION(S):
Phone Holder Length: 32.5"
Light Length: 55"
Light Diameter: 8.5"
USB Cord Length: 100"
Power Supply: USB 5V
Clamp Length: 6"
LED Quantity: 24pcs
LED Power: 6W
PACKAGE INCLUDE(S):
1 x Professional Selfie Ring Light With Cellphone Holder
1 x User Manual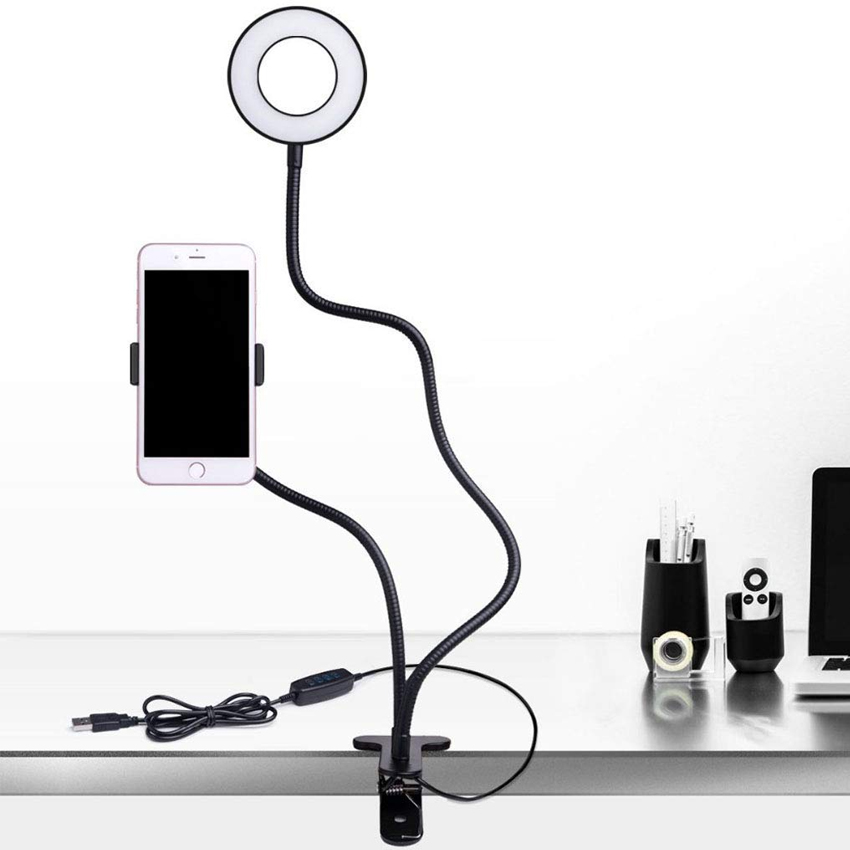 Q&A:
Q: Will it hold my iPhone XS?
A: Yes, it will! It is compatible with all smartphones in the market today.
Q: Is the phone holder removable?
A: No, it is not. It is attached to the clamp to give you a hands-free experience.
Q: Will the light automatically work once you plug it into a power source?
A: No, it won't. You need to turn it on by pressing the switch located in the USB cord.
Q: Can I control the brightness of the light?
A: Yes, you can! A switch is attached to the USB cord for you to adjust the brightness and change the light's color according to your preference.